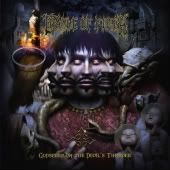 Cradle of Filth are a melodic black metal band from England. On this release, they are: Dani Filth (vocals), Paul Allender (guitars), Charles Hedger (guitars), Dave Pybus (bass), Martin &0138;karoupka (drums), Rosie Smith (keyboards), Mark Newby-Robson (keyboards), Sarah Jezebel Deva (backing and female operatic vocals), and once more featuring the guest narratives of the legendary Douglas Bradley of Hellraiser fame. Cradle of Filth return from the lighter and more accessible sound they embraced with Thornography and Nymphetamine to their more traditional, black metal influenced sound in Godspeed…, much to the delight of their core fan base.
The Blood
   This is a concept album about fifteenth century serial killer Gilles de Rais [Wikipedia article]. We all remember the last time they did a concept album about a famous, historical nutter, right? Cruelty And The Beast was an epic masterpiece! They were thinking right in going with that formula again. Godspeed…is indeed masterful. It is Cradle of Filth true to form once more. The guitars get good and fast when they need to and carry truly dark melodies throughout. I will likely learn a couple of these to warm up with. Dani gives a better vocal performance than he has for a couple of albums, but what caught my ears the most was an increase in Sarah's involvement. This is something fans have been asking for for some time.
The Piss
   While I am indeed gushing over their return from more pop-inclined realms, this release still has a few down sides. Dani Filth still is not hitting the ear-piercing highs like he used to. I'm not one to beg for a screeching cat fight, but it is his signature. There has been some speculation that this is the result of Roadrunner Records influence. It sure seems in line with RR's behavior in the past. They seem quite partial to bringing mainstream moderation upon once extreme acts. Douglas Bradley's narratives are always good, but these are not up to his usual par. Perhaps it is in acting as de Rais, different from previous 'voices' he has been, but they seem more to the cheese than his past performances with Cradle of Filth. Finally, while all of the above I've said about the guitars hold true, there is still too much Maiden and not enough black metal in the riffs. Oh, Gian Pyres, how we miss ye.
The Judgement
   This is a step back in the right direction. Cradle of Filth should not and never be a Hot Topic-friendly, emo-pop accessible band. They should be bitingly violent while cruelly beautiful. They should not be the beloved of 13 year old, neo-mullet wearing mall-goths. The music should not be MTV-friendly. This album is a drop of hope that Cradle of Filth can resist the influence of Roadrunner Records and stay true to who they've always been. Godspeed On The Devil's Thunder belongs with the elder releases in regular playing rotation. While it is not Dusk…, or any of the Gian-era releases for that matter, it is exceptionally better than their recent offerings. I give it a nice four and a half stars.